The Bathroom Manufacturers Association is delighted to announce the Sustainability Awards 2022 winners.
The celebration at Manchester's iconic Lowry Hotel, on Thursday, 3 November, was compered by the BMA's CEO Tom Reynolds, who kicked off the event and outlined that what is special about this ceremony is that behind every entry, across all categories, is a passionate effort to reduce this industry's impact on our planet.
The Sustainability Awards were independently judged by journalists, industry experts, academics, and representatives from NGOs, who remarked overall that the entries were "glowing". One judge said that "the BMA and its members are so far ahead of others in the construction supply chain on sustainability, it's inspiring."
The Sustainability Awards 2022 winners are: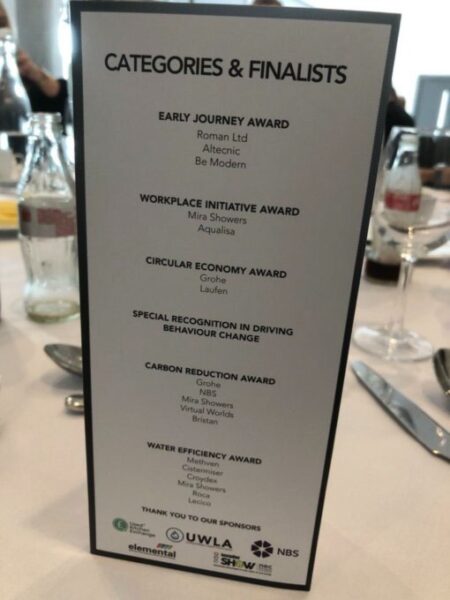 The Early Journey Award – Be Modern
This sustainability award recognises a company that has taken early strides towards a more environmentally friendly business model.
Lee Jones, Head of Manufacturer Solutions for NBS, presented the award to Be Modern, the high-quality furniture brand of Atlanta Bathrooms.
The judges for this category were Prof Sean Smith of Edinburgh University, Lauren Wiseman of WWF and Taylist's Andy Davis. They said, "The quality of the entries in this category was high, with a strong focus across the full gamut of sustainability actions. The winning entry was systematic and methodical, changing low-hanging fruit while looking at the bigger picture. The entry epitomises what this category is about."
The Workplace Initiative Award – Mira Showers 
Bathroom manufacturers, as employers, can significantly benefit the environment by nudging their staff's behaviours both inside and outside of work. This award recognises initiatives that bring teams on the green journey.
Alecia Porter-Bent, Business Development Executive for InstallerShow 2023, presented Mira's award.
The judging team was WWF's Lauren Wiseman, Hammerville's Pip Turrell, and KBBFocus' Emma Hedges. They said it was a tough category to determine between the entrants but that the winners "took a bottom-up approach by using their energy and enthusiasm to promote sustainability initiatives within the organisation."
A Special Commendation Award – Roman Showers
Following the judges' comments on an incredibly impressive submission, a special commendation certificate was awarded to Roman Showers for their comprehensive contribution to sustainability. As it didn't quite match the criteria for any particular category, the judges were adamant that they did not want the entry to go without recognition. One said simply, "This is excellent stuff; they are setting a great path."
The Circular Economy Award – GROHE 
As manufacturers, BMA members have a role in moving towards circularity. This award recognises companies' efforts in materials stewardship, reducing or removing waste, and designing products with repairability in mind.
Helen Lord, Founder and Director of Used Kitchen Exchange Ltd, presented the award to GROHE, which was judged by Professor Sean Smith, Andy Davies and Emma Hedges.
The judges said the winning entry addresses bathroom manufacturers' problem regarding circularity. Their entry shows that this is far from a token gesture and that they're going about this with commitment and rigour, setting new standards for the bathroom industry in the process and the built environment as a whole.
Special Recognition for Driving Behaviour Change – Triton Showers
Provoking behaviour change among consumers, and encouraging them to make more sustainable choices around the bathroom, is a crucial way for bathroom manufacturers to make a positive environmental impact. Whether through a marketing campaign or a nudge-giving product innovation, this award will celebrate bathroom manufacturers bringing customers on the journey.
Paul Skinner, an independent audit assessor from PSC UK, presented the award on behalf of the Unified Water Label Association.
The Carbon Reduction Award – Mira Showers
Around the world, businesses are rallying in response to climate change and the race to zero carbon. This sustainability award recognises the efforts of bathroom manufacturers to reduce their carbon impact, e.g., through energy efficiency, adoption of renewables, greening the fleet, etc.
The judges in this category were Keele University's Dr Sharon George, CPA's Jane Thornback and NHIC's Anna Scothern, who said the quality of the entries was remarkably high, marking bathroom manufacturers out as ahead of others.
Due to the various initiatives on display, the judges had difficulty determining between the entries. However, they said the winner had developed a simple and effective innovation to help building developers and homeowners drive down emissions from hot water use.
Alecia Porter-Bent, representing Elemental, presented the award to Mira Showers.
The Water Efficiency Award – Cistermiser
Over 60% of domestic water consumption is in the bathroom, so our sector plays a prominent role in improving water efficiency.  This award recognises innovations that maintain consumers' bathroom experience while improving water efficiency.
The judges for this category were Waterwise founder Jacob Tompkins, Northumbrian Water's Tom Andrewarthur and UWL's Yvonne Orgill. They remarked that this was a tough category for the entrants because of the strong pedigree of innovation around water efficiency, making it hard to achieve anything other than marginal gains. However, the judges said of the winning entry that they liked it as a new and novel approach, with experts working to deliver against a challenge, remarking that it focused on an area of huge potential.
Paul Skinner, an independent audit assessor from PSC UK, presented the award on behalf of the UWLA.
On closing the ceremony, BMA Chief Executive, Tom Reynolds, said:
"Thanks to our category sponsors, UKE, Elemental, Installer, NBS and the Unified Water Label, our panel of judges for ensuring independence and integrity, and thank you to everyone in this room for your entries and, more importantly, the effort you put into sustainability every single day.
"It's tough, but bit by bit, year by year, we are transforming this industry to do its bit for the planet."