Excitement is in the air as InstallerSHOW 2023 approaches, and the BMA can't wait to welcome you to the highly anticipated Bathroom Zone.
The Bathroom Zone will serve as a central hub where exceptional brands can showcase their products to installers. It's not just about displaying the latest innovations; it's also a space to address the issues and challenges that impact our sector, with a strong focus on building a sustainable future.
We're confident that our carefully curated programme of topics and speakers will inform and inspire our audience, providing installers with valuable knowledge they can put into practice.
What does each day have in store?
Bathroom Zone, Day One: Tuesday, 27th June – The Future of Bathrooms
On the first day of our Bathroom Zone programming, we'll explore how brands, merchants, and installers can all embrace innovation to drive business growth. Topics include the latest bathroom technologies and understanding the impact of e-commerce. Our panel debate will concentrate on leveraging social media to boost business for tradespeople and brands. A host of social media gurus will join, including James Lawrence of Plumberparts.co.uk, Rachel Quayle of Used Kitchen Exchange and Lee Wilcox of ElectricHouse/OnTheTools.
As part of the day's lineup, BMA CEO Tom Reynolds will be pleased to interview the esteemed TV presenter Mark Millar. They will discuss Mark's experience running his building firm and how he became one of the most recognisable faces in home improvement. Expect to hear his insights on managing projects, both the successes and the challenges.
Remember that from 5 pm to 6 pm, we're holding the BMA Annual General meeting too. If you're a full member and still need to sign up, there's still time to here.
Bathroom Zone, Day Two: Wednesday, 28th June – Boosting Customer Satisfaction
Customer satisfaction takes centre stage on the second day as we delve into our most recent research on how installers influence consumer bathroom product choices. Jane Blakeborough of the BMA and Dave Ruston of Eureka! Research will be highlighting the key insights from this research.
We'll also address dispute resolution, and our panel debate will examine how installers, merchants, and specifiers ensure product safety and performance. David Osborne of Roman Ltd, Stephanie Allchurch from Altenic, and David Jay from Kiwa UK are joining us for that discussion.
A highlight of the day will be an interview with George Clarke, the renowned architect, TV presenter, and writer. Join us as we explore George's illustrious career, design principles, and views on bridging the skills gap and incorporating sustainability and green technologies. As George attracts a large audience, arrive early for the 1:15 pm start at the Bathroom Zone.
Bathroom Zone, Day Three: Thursday, 29th June – The Sustainability Forum
Before our programme of speakers, we are hosting our MD's meeting from 10 am to 11 am held via Microsoft Teams and onsite at the NEC. This is open to full BMA member company principles. Please feel free to register your interest here.
The final day of the Bathroom Zone programme will be dedicated to sustainability and decarbonisation, an essential topic in our regular Sustainability Forum. We have an impressive lineup of speakers who will address this crucial issue and show how installers play a significant role in the solution.
Discussions will range from interpreting the Unified Water Label to ensuring that bathroom furniture and wall panels are sustainably sourced to lessons to learn for installers and manufacturers alike.
The day's panel debate includes Rachel Gray from WRAP, Kathryn Rathouse, Director at KR Social Research, and Ashley Shires, UK Managing Director at Siamp. Together, they will discuss simple steps to encourage behaviour change among consumers, such as bathroom recycling, water saving, shower time nudges, and becoming 'Lavvy Savvy.'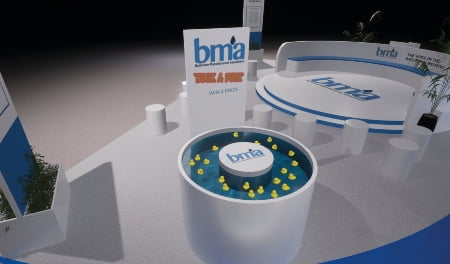 But that's not all. In addition to these exciting discussions, attendees will have exclusive opportunities for meet-and-greets with industry experts and a chance to participate in our 'Hook-a-Duck' challenge, where you can win prizes from our members.
At the BMA, we strongly prioritise environmental preservation, creativity, and quality craftsmanship. We rely on the support and expertise of skilled installers to initiate lasting change in these areas.
With all this in mind, we invite installers from across the UK to join us at the Bathroom Zone. You can expect exceptional brands showcasing their products, engaging discussions on innovation and customer satisfaction, and a deep dive into sustainability. There's something for everyone, and we guarantee it will be a must-attend event!
Save the dates and prepare for an unforgettable experience at InstallerSHOW 2023 – the Bathroom Zone awaits you.
If you still need to register for your free ticket, you can just head to the InstallerSHOW registration page.