Now in its third year, the BMA Sustainability Awards continue to reflect the dedication and passion this industry shows in promoting environmental stewardship, and these awards acknowledge the outstanding efforts made by BMA members in reducing their environmental impact.
This year, the BMA received many entries to its three categories: The Carbon Reduction Award, The Water Efficient Innovation Award, and the Open Award, reflecting those projects outside the first two categories.
Staged at the Carden Park Hotel in Cheshire on October 10 as part of the annual BMA Industry Conference, attendees were treated to an elegant black-tie four-course Gala Dinner, a charity raffle and an auction in aid of CRASH. Some fantastic prizes were on offer, and £3,050 was raised for the charity.
Attendees were entertained throughout by the highly acclaimed comedian, author, and TV personality Mark Watson.
Winner of the Carbon Reduction Award – sponsored by KBB Focus
Triton Showers
The judges for this category, Emma Hedges of KBB Focus, Keele University's Dr Sharon George, and CAFA Collective's Alison Heppentsall, agreed that Triton Showers had submitted an excellent entry. Their targets, quantitative reporting and incentivisation for consumers to change behaviours regarding water use and carbon emissions gave them the winning edge.
Darren Summerfield of KBB Focus presented the award to the Triton team.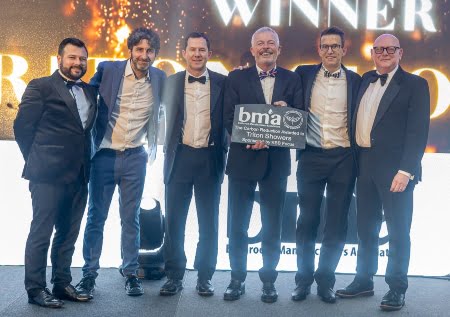 Winner of the Water Efficient Innovation Award – sponsored by UWLA
Cistermiser (for their Direct Flush Discreet)
The judges in this category were Waterwise's Nicci Russell, Tom Andrewartha from Northumbrian Water, and the Unified Water Label Association's Yvonne Orgill, who all noted it was a powerful case study showing demonstrably high water savings. A good video and well-written application secured their winning spot.
The Unified Water Label Association's Yvonne Orgill presented the award to Business Development Manager George Robinson of Cistermiser.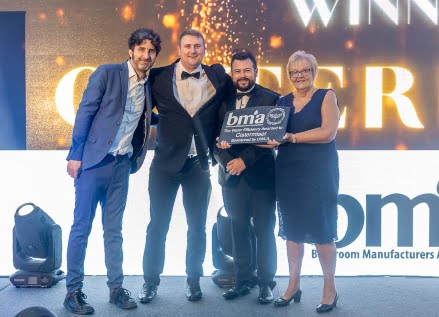 Richard Braid, Cistermiser's managing director, said "We are ecstatic and humbled to have been awarded The Water Efficiency Award for a second consecutive year by the BMA. To be able to clearly demonstrate the true, immediate benefits of our water saving solutions is key to supporting our clients ESG goals. The BMA Sustainability Awards are highly respected within our industry, and provides Cistermiser an unwavering confidence, to remain committed to designing, developing and manufacturing innovative washroom solutions that will support and encourage owners and managers of commercial and public sector buildings to reduce their water consumption. Upon each installation of the Cistermiser DFD, we are helping businesses to successfully reduce their water, energy and carbon emission each and every day."
The judges also wished to express their applause for the entry from GROHE for their Everstream recycling shower and decided to award a special commendation certificate. The Everstream showed exceptional innovation, and the judges appreciated their challenge to the traditional shower system.
Winner of the Open Category Award – sponsored by Installer/Elemental
GROHE
The judges in this category had a great deal to deliberate. Jane Thornback of the Construction Products Association, Andy Davies of Taylist Media and Lauren Wiseman of the World Wide Fund for Nature UK agreed that GROHE's range of environmental initiatives and a good understanding of sustainability had the winning edge.
Installer SHOW Director Dave Ventris-Field presented the award to Lisa Carnwell, BMA Communications Manager, on behalf of GROHE.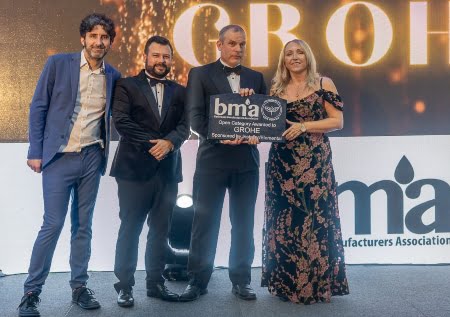 There were so many entries, and many showed hard evidence of achievements, so the judges wanted to award two additional companies with special commendation certificates.
Triton Showers was the first company to be awarded the certificate for their vast efforts toward being net zero and various climate projects.
Another special commendation was awarded to Roca Group for their clear understanding of sustainability issues.
BMA Chief Executive Tom Reynolds remarked, "Again, BMA members have risen to the challenges facing our planet. With each awards ceremony we host, we witness the fundamental shifts our industry is taking to improve our environment through immense efforts in innovation and dedication.
"I want to thank each and every award applicant for showcasing their passion, and my thanks also go to our esteemed judges, who I know analysed each entry with care.
"Finally, my heartfelt congratulations go to all our winners – your efforts do not go unnoticed."