The BMA can finally unveil the highly anticipated BMA Sustainability Awards 2023 finalists. After receiving an overwhelming response from bathroom manufacturers, the judging panel comprised of journalists, industry experts, academics, and NGO representatives had the challenging task of selecting the standout contenders for these prestigious awards.
The quality of submissions was exceptional, and our esteemed judges have praised the dedication and commitment to sustainability demonstrated across various initiatives and products. Their verdict? Many entries were "excellent" and showcased a tangible and measurable commitment to improving sustainability across operations, product manufacturing, transport, packaging, and product design.
Here are the finalists for the BMA Sustainability Awards 2023:
The Carbon Reduction Award – sponsored by KBB Focus
The judges in this category were Emma Hedges of KBB Focus, Keele University's Dr. Sharon George, and CAFA Collective's Alison Heppentsall, who said all the entries were very good, demonstrating a tangible and, in all cases, a measurable commitment to sustainability improvement across operations, product manufacture, transport, packaging, and product design.
The finalists are:
Triton Showers
Lakes Showering Spaces
Hamberger Sanitary GmbH
Kohler Mira (Recoup programme)
Kohler Mira

The Water Efficient Innovation Award – sponsored by UWLA
The judges for this category were Waterwise's Nicci Russell, Northumbrian Water's Tom Andrewarthur and UWL's Yvonne Orgill. They said this was a challenging category for the entrants because of the high level of innovation around water efficiency. They liked the high potential of water-saving qualities of many of the products on offer.
The finalists are:
GROHE
Hansgrohe UK
Geberit
Cistermiser (EasyflushEVO)
Cistermiser (Direct Flush Discreet)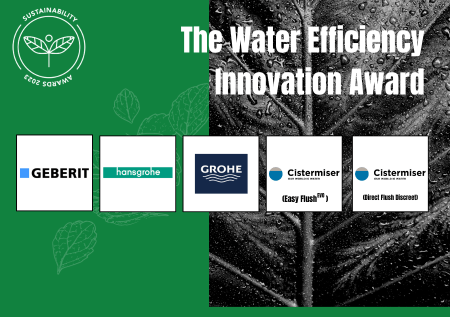 The judges for this category were the CPA's Jane Thornback, Taylist Media's Andy Davies, and Lauren Wiseman of WWF-UK. The judges noted the positive developments and initiatives on offer that showed a good understanding of sustainability.
The finalists are:
Triton Showers
Roca Group
GROHE
Coram UK
Kohler Mira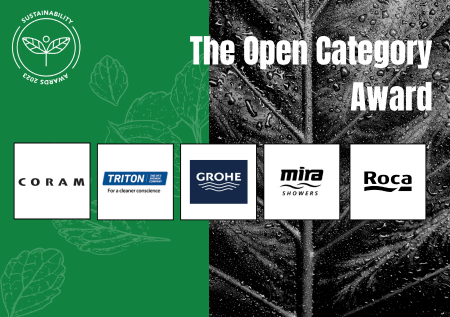 The BMA's Chief Executive, Tom Reynolds, said:
"Our judges have again had a difficult decision to make, and I am grateful for their integrity and effort taken to analyse each entry.
"The journey our industry is on to minimise its impact on our beloved planet isn't an easy path, but the various initiatives and products we've witnessed through the judging process signal the incredible advances we are making. Our sector should be proud of that."
The awards winners will be announced at a prestigious ceremony on 10th October at the BMA Industry Conference Gala Dinner at the Carden Park Hotel.
Tickets are limited, but if you'd like to book your place, please get in touch with Amy Kirk via amy.kirk@bathroom-association.org.uk.