The Bathroom Manufacturers Association has won the Sustainability Champion category at the coveted Association Excellence Awards 2022.
The award recognises the BMA's commitment and focused strategy toward sustainability for its growing membership base and reducing the environmental impact of its operations to a minimum.
The BMA has already signed the UK Government's SME Climate Commitment to achieve Net Zero by 2030, a target likely to be beaten.
By supporting members in adapting their products and processes and actively working in collaborative and innovative partnerships, the BMA also supports consumers in making more sustainable bathroom purchasing decisions.
Working tirelessly toward water efficiency, during 2021- 2022, the BMA influenced the National Retrofit Strategy; ran the '#GetLavvySavvy' campaign; successfully briefed peers on the Environment Act; and worked with Defra on reducing domestic water consumption.
The BMA is also proud to have held five biannual Sustainability Forums to discuss essential topics affecting members, and in 2021 launched its own Sustainability Awards to celebrate the efforts of members, share best practices, and ultimately raise the bar for the whole sector. The next BMA Sustainability Awards will be held on 3 November 2022 at The Lowry Hotel in Manchester.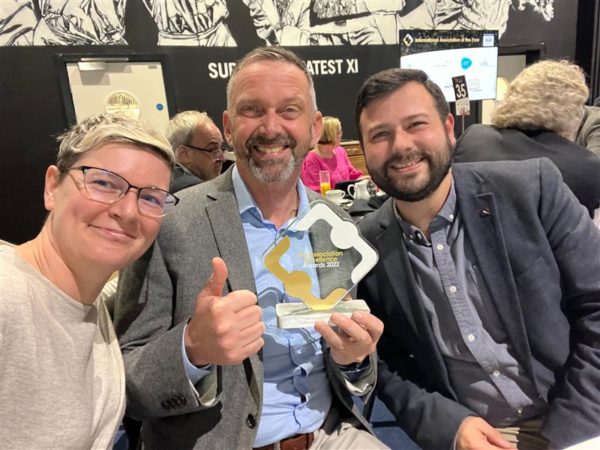 (Celebrating our win at the Association Excellence Awards 2022: Amy Kirk, Andy McLean and Tom Reynolds)
Judged independently by 30 esteemed CEOs from various trade and professional associations, the Association Excellence Awards 2022 were held at The Kia Oval grounds, home to Surrey County Cricket Club, on Friday, October 14.
On winning this category, the judges said the BMA have a clear strategy for sustainability, they used a great collaboration to make an impact and loved the #GetLavvySavvy, which gained a social media endorsement from TV property expert Sarah Beeny.
BMA Chief Executive, Tom Reynolds, said: "We're so proud to have won this category as sustainability is one of our main focus areas.
"The BMA and our members are working on many aspects of this crucial area, such as bringing water-efficient products to market, increasing consumer awareness around water scarcity, reducing waste and improving circularity.
"I'd like to congratulate the entire team for their commitment to bringing sustainability to the forefront of our work."