Trend-Monitor has been collecting data on bathroom purchasing behaviour since 2013. By teaming up with the BMA again in 2022, they produced the 2022 Bathroom Consumer Purchasing Trends research – to determine and analyse any shifts in consumers' thinking when purchasing a new bathroom.
For the 2022 Bathroom Consumer Purchasing Trends research project, Trend-Monitor surveyed over 500 UK homeowners who had purchased a completely new bathroom since March 2020.  The feedback helps us understand the impact of the Covid pandemic and the slower-moving trends that have been quietly developing.
The bathroom budget
Perhaps one of the most notable findings is that the increase in bathroom budgets since 2013 has increased by 61% to about £7.5k. This significant rise is, of course, an average spend that includes all fixtures, fittings and installation costs. It is often difficult to calculate an exact figure as consumers can be somewhat vague on installation costs. However, the data does suggest that more are involved in high-end projects.
Research priorities
Insofar as consumers' research before purchasing, online research and retailer visits are more popular than asking for verbal advice. The 2022 survey highlighted that the most useful research method is advice from an installer, who will influence the consumer throughout the purchase journey.
Most fitters, around 28%, are based on friends and family recommendations, with 22% being already known by the homeowner.
Appreciating good bathroom design and installation
Almost a third of bathroom purchase journeys start with consumers seeking inspiration, reflected in the research priorities above. Viewing a bathroom in situ has considerable benefits to appreciating good design. Still, consumers are not fully utilising professional designers and often underestimate the importance of good design until it's too late.
The research discovered that 45% of new installations are either designed by the homeowner or keep the same layout. The installer will design 28%, with only 27% planned by a professional designer.
Unfortunately, 15% of new bathrooms have a 'disappointing' element, attributed to poor design.
The study did find that showering is the category that homeowners are most pleased with overall, with its performance, ease of use, consistent temperature, and the space created by a modern shower installation all creating a lasting impression in the homeowner's mind.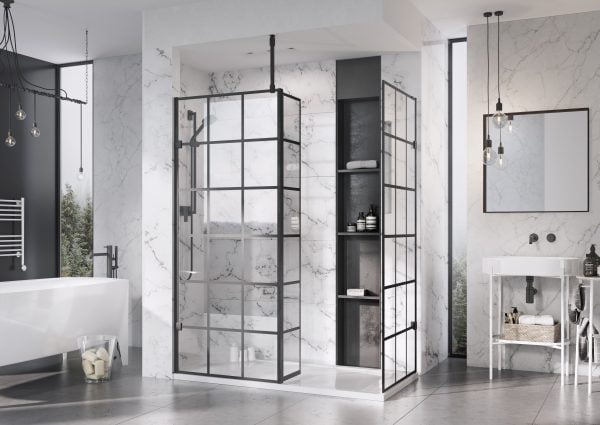 Shopping around
The pandemic lockdowns forced consumers to look online, enabling them to compare products, prices, availability and delivery options. This 'shopping around' habit continues, with over a third of consumers buying their bathrooms across multiple retail outlets. A quarter of customers of independent bathroom retailers are shopping around, with builders' merchants being a popular secondary retail outlet.
Sustainable bathrooms
Although the awareness of sustainable bathrooms has increased since 2020, design and fitter recommendations are proving to be more important factors in homeowners' decision-making.
Where sustainability comes into play, water efficiency is the priority, with 11% falling into shower control purchases, 8% toilets, and 4% tap purchases.
Smart bathrooms
Unlike many smart devices around the home, bathroom technology is struggling to gain traction. While 19% of homeowners claim to want these products within the bathroom, only 8% of the homeowners in the study indicated that they had purchased a smart bathroom product. After further investigation, however, only 4% of those products were indeed 'smart'.
Social and demographic trends
The 2022 research also examined the social and demographic trends influencing home improvement decisions. Future-proofing for old age is a slow-growing trend and the motivation behind 5% of new bathroom installations in 2021-22, compared to just 1.4% in 2016.
Additionally, one-third of UK households are multigenerational, a trend set to increase considering rising house and rent prices that force adult children to continue living with their parents. This type of living drives the need for additional bathrooms and has increased from 20% in 2018 to 27% in 2022.
This latest research from Trend-Monitor continues to provide valuable insight into our consumers' behaviour. It can inform the sector where efforts should be concentrated to continue outstanding work, whether pushing our water-efficient products, highlighting the benefit of good design or championing great installers.
The full report, The Bathroom Consumer in 2022, is available from Trend-Monitor Ltd.