If you're affected by the new extended producer responsibility (EPR) for packaging, you will need to report your packaging data. This means you will need to start collecting the correct packaging data from 1 January 2023.
The regulations apply to all UK organisations that handle and supply packaging to consumers and to businesses.
To assist you in understanding whether your business is obligated under extended producer responsibility (EPR), Defra has developed an online Obligation Checker tool.
The tool works on any browser and shouldn't take more than five minutes to complete. It can be run as often as you need and the results can be be printed out.
The Obligation Checker and accompanying guidance sets out Governments interpretation of the regulations. If you disagree, you should seek independent legal advice but if you have any questions, please contact the team using this email address: CPRenquiries@defra.gov.uk
A demonstration video on how to use tool is available on YouTube.
The tool will help you assess whether you meet the thresholds set out below.
To understand the obligations under EPR, it is important to differentiate between two distinct sets of obligations.
The first is the waste cost and recycling obligations, with an obligation to report placed on the market data, meet recycling obligations, and pay disposal costs for Local Authority collected waste.
The second is the nation of sale obligation, with an obligation to report where packaging is disposed, broken down by nation within the UK.
Waste cost and recycling obligations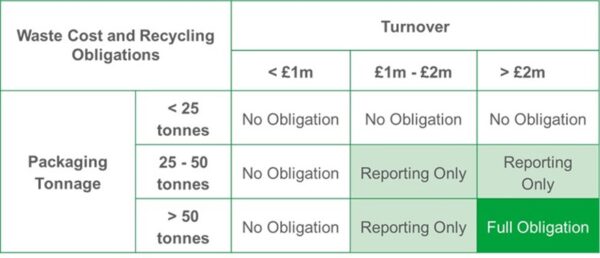 These obligations are closely related to the existing producer responsibility for packaging scheme. Producers who are captured under these obligations must register with their regulator, and collect and report information on the packaging that they supply to the UK market.
For those who have a 'full obligation', they will then have to meet further obligations based on this data, as set out in the guidance from Defra.
Nation of sale obligation

This is a data reporting only obligation, where packaging must be broken down by the nation in the UK where it was disposed.
Not all producer types will be obligated for both sets of obligations.
Understanding whether your business is obligated or not, requires assessing your business against a range of criteria across two obligations, which can be done via the Obligation Checker.
Defra has published guidance on How to collect your packaging data for EPR and guidance on Packaging waste: prepare for extended producer responsibility. These supplement the Obligation Checker tool and should be used together to further understand EPR requirements.
Useful links for extended producer responsibility for packaging
Extended Producer Responsibility (EPR) – January 2023 requirements presentation on YouTube
Demonstration of Obligation Checker
Guidance Packaging waste: prepare for extended producer responsibility
Guidance How to collect your packaging data for EPR
Data Reporting SI The Packaging Waste (Data Reporting) (England) Regulations 2022 (legislation.gov.uk)